Adenna Earloop Face Masks (Violet)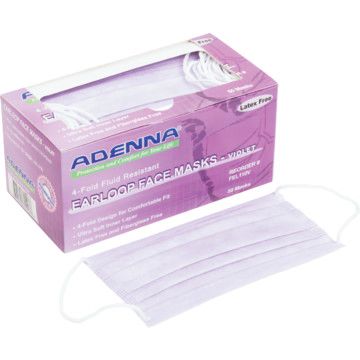 Adenna Earloop Face Masks (Violet)
First Care Supplies Offers The best Prices On earloop Face Masks.
ADENNA® brand earloop face masks meet the ASTM F2100-11 requirements as Performance Level 2 Barrier medical face mask. 50 Masks per Box, 10 boxes per Case.
First Care Supplies is taking pride in selling these 3-ply fluid resistant earloop face masks have a unique 4-fold design, which is different from traditional 3-fold face masks. More protective material is used in creating a 4-fold design than traditional 3-fold face masks; therefore when unfold, the ADENNA® face masks form a better cone shape to provide maximum coverage on the wearer.

The inner layer touching the wearer's face is a unique material that is ultra soft and very comfortable on the skin. These face masks are 100% latex free and fiber glass free. The nose piece is metal free but conforms to wearer's face for a comfortable fit.

They are available in different color options to meet individual's preference. If you would like to know price per cases please contact First Care Supplies today! We have the BEST price per case.